Important Household Documents
This information is intended to assist you in organizing your move and help the future owner.

As you are preparing your home for sale and come across important documents place them in this folder and leave it on your kitchen counter along with keys and garage door remotes, etc. on possession day for the new owners.
Manuals and warranties for furnace, appliances, hot tub, garage door opener, alarm system, humidifier, central vacuum, etc…
Receipts for purchase of any of the above items that might be relevant for warranty (personal info blacked out) – also include receipts for replaced roof, carpets, kitchen cabinets, fireplace or any other renovations or improvements
Building Permits, Inspections Permits, etc..
Extra keys, garage door openers, mailbox keys and the number/location of mailbox
Leave your forwarding address and contact information for stray mail
Leave the current alarm codes for alarm system, keyless entry on garage or keyless door entry
New Home Warranty information
Builder/Suppliers contact information
Any written operating instructions you may want to leave, any details of landscaping or garden or underground sprinkler system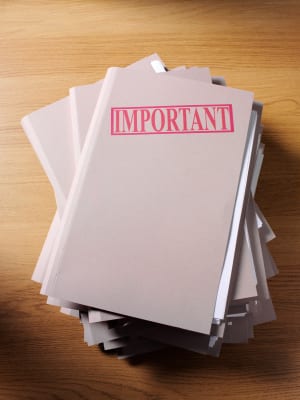 A FEW DAYS BEFORE YOU MOVE OUT…..
All utilities & services – cancellations and re-hook ups if applicable

Mail forwarded, subscription notified

Alarm Company notified – if applicable
Closing up the House:
Remember to leave any attached fixtures and shelving

Do not leave behind items that you think the new owner could use (old lawn mowers or freezers, etc…) as you will be asked to remove them at your expense. *Exceptions being left over building materials that could replace future damaged items such as replacement tiles or hardwood & current paint colors.

Remember to do your best to leave your house as clean as you would expect to receive it!
CHECKLIST (Help the next Owner)
House keys – leave on kitchen counter

The final key you use to lock up can be slipped under closed garage door when all is done. The new owners will look for the final key there.

Garage door remote(s) – leave on kitchen counter

Mailbox keys: Mailbox location & number

Important Household documents: *leave on kitchen counter

No unexpected items left behind: (Xmas lights, tires, hoses, freezers, lawn mowers, etc…)

Garbage removed and put to curb (Makes sure it fits the definition of what city will take away)

Best number to reach you at on Closing Day & any new phone numbers or email address changes

On possession day I will be in touch with your lawyer's office. They will notify me when they have everything from the Buyer's lawyer and keys can be released to the new owner.